The Lightside UFO Study Group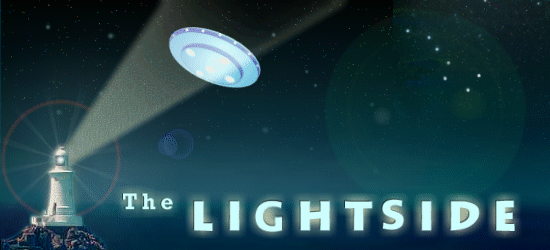 The Lightside UFO Study Group has been active for over 30 years. To share what we've learned in this time, we have completed a series of informative books that detail much of what the group has discovered throughout their history. But this site also provides a number of free resources that you may use in the course of your personal UFO studies.
Randy Keith has posted some independent observations about Bonnie's Alien Contact.
Here is what he had to say.

He looked at me and spoke to me telepathically and said that we have to work together to accomplish our jobs. I had no idea what he was talking about but nodded yes. He showed me a scene in my head of people holding hands in a circle; they were holding tightly to each other as if some force were trying to separate them. I realized he was trying to show me how working together as a team makes us stronger than working individually. This man then told me that he would be keeping watch over me and if I ever needed him, he would try to help me.
From page 30 of the book
Alien Contact
by Bonnie Meyer
Join Us at Our Monthly Discussion Groups
Have you seen, heard or experienced something you can't explain, something paranormal or UFO related that you would like to talk about? If so, bring along a snack to share and anything you would like to discuss for an afternoon of ridicule-free conversation. Here is a place where you can talk openly among friends of like minds.
The meetings are held at the Oshkosh Goodwill Store in the Community Room on the 4th Sunday of every month and at the Menomonee Falls Public Library on the third Saturday of every month.
Oshkosh Discussion Group
4th Sunday Every Month
1600 W. 20th Avenue
Oshkosh, Wisconsin
Time: 1:00pm - 4:00pm
View Larger Map
Menonomee Falls Discussion Group
3rd Saturday Every Month
8436 Pilgrim Rd, W156N8436 Pilgrim Rd.
Menomonee Falls, Wisconsin
Time: 2:00pm - 5:00pm
View Larger Map