Mobile chapels help truckers keep on prayin'
By Annysa Johnson of the Journal Sentinel
Posted: Dec. 13, 2009

Transport For Christ Chaplain Tim Sackett (left) leads a prayer for trucker Wiley Sheets (right) during a service at the Transport For Christ Chapel at the Twin City East TA Travel Center off I-94 in Hudson.
(Photo credit: Mark Hoffman)
2 Wisconsin sites can fight loneliness of road
It's Sunday morning at the Petro Stopping Center off Highway 20 in Sturtevant, and the place is humming.
Famished families down pancakes and eggs in the truck stop's bustling dining room.
A line of 60-something women stretch their legs before boarding a tour bus en route to Nashville.
Truckers snooze in their cabs, recharging their bodies for the long haul ahead.
And, at the center of it all, in a renovated trailer parked among the semis, six drivers bow their heads in prayer and get right with God.
"This will fill me up and let me combat all the negativity in the week ahead," said Drew Hengel, a Tennessee driver who looks to the Bible to keep him on the straight and narrow when he's out on the road. "When Saturday comes around, my tank gets pretty low."
Hengel and his fellow drivers are gathered in the newest mobile chapel of Transport For Christ, a Christian ministry based in Marietta, Pa., that offers spiritual respite for drivers in the long-haul trucking industry.
"We're missionaries," said Chaplain Tim Sackett, a former driver who has run Wisconsin's only other Transport chapel - in Hudson, a stone's throw from the Twin Cities - since 1992.
Converted trailers
Trucking is fertile ground for ministry, TFC chaplains say, with its long and lonely hours, dangerous conditions, marginal pay and often unfettered access to booze and women - all of which take a toll on drivers and their families.

"Loneliness and the temptations of the road are the two biggest problems we deal with," said Mike Touhy, a retired Chicago cop and lead chaplain at the Sturtevant chapel, which opened in July after years of planning.

"A lot of these drivers are married with children. And they're gone for weeks at a time. We try to encourage them and pray for them," he said.

The Wisconsin chapels are among 34 parked at truck stops across the United States and Canada, emblazoned with the motto: "Proclaiming a dynamic Gospel to a dynamic industry."

Chaplains raise their own funding, from churches and individuals. And they minister in retired trailers refurbished at a cost of about $20,000 to create a cozy if spartan space for Sunday services, Bible study and fellowship.

It's a little bit of everything on this fall Sunday as Hengel and his fellow drivers gather with volunteer Chaplain Fred Douglass in prayer and song at the Sturtevant chapel.

Douglass gets things rolling with a passage from Psalms 1 - "How blessed is the man who does not walk in the counsel of the wicked, nor stand in the path of sinners."

And Hengel can relate, having seen his share of temptation in his 20 years on the road.

"I used to want to partake of the ladies who knock on the door," said Hengel, a self-described "Jesus freak" who rediscovered his faith after nearly losing his wife and daughter in childbirth.

"I knew I needed to change my life if I wanted to be the man God wanted me to be."
Emptiness on the road
It was the emptiness of that life that drew Sackett to the Transport for Christ ministry.

Young and cocky, he'd been driving a truck in his 20s, frequenting the strip clubs and bars, when he stopped in Illinois in 1987 to visit a childhood friend who'd grown up to become a pastor.

"Just being around him made me change my behavior," said Sackett, now a 50-year-old married father of three.

"I noticed the difference in our lives. He was married with four children. He was happy. I was single. I thought, 'How did we get to be so different?' "

When he left, Sackett started reading the Bible and listening to Christian radio. He can pinpoint his moment of conversion, a February night three months later, when he pulled his rig off the road, got down on his knees and asked God to save him.

"I made a life change then, started working on all the things I considered wrong with me," he said. "I took more responsibility for my life. I treated people better, read the Bible . . . and I started to grow in my religion."

It's that deep connection, that epiphany, Sackett hopes to spark every time he walks the truck stop inviting drivers for Sunday service or Bible study, or just a cup of coffee across a Formica tabletop in the diner.
Setting boundaries
There are some areas he won't broach: divorce and remarriage; denominations; and the primacy of Bible translations.

"There's no benefit in that. We want fellowship, not confrontation," he said.

As chaplain, Sackett has officiated at more than a few baptisms over the years, in the St. Croix River near Hudson, the swimming pools at the YMCA or the Comfort Inn.

Among them was a Wisconsin driver who'd come in on a November morning on the brink of suicide.

"He looked like he'd been beaten, on the verge of tears and hurting everywhere," Sackett said. "He said he planned to drive off a bridge, but he was afraid he'd go to hell."

Sackett talked him down, setting him on a path toward religious conversion. The driver started reading the Bible, joined a church and stopped at the chapel whenever he went through Hudson.

And on a Friday morning the next June, he walked with Sackett into the frigid waters of the St. Croix and gave himself in baptism.

"It's such an accomplishment to know you're part of someone's future, not just here on Earth," Sackett said.

"There's a verse in the Bible that says heaven rejoices over one sinner who repents. If heaven's rejoicing, I don't think I can do any less."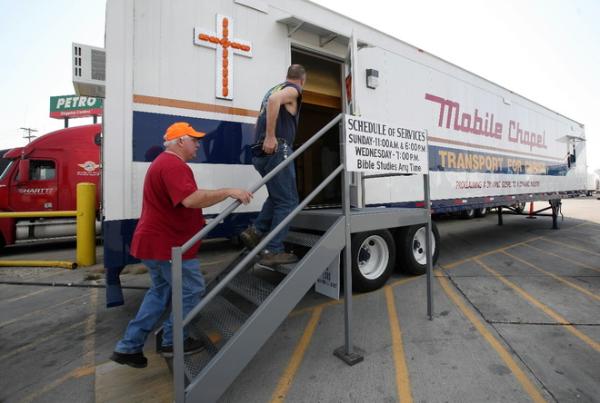 Truck drivers Eric Iverson (left) of Oak Grove, Minn., and Bill Feucht of Golden Valley, Minn., arrive for the 11 a.m. worship service last month at the 53-foot long trailer that is home to the Transport For Christ Chapel at the Petro Stopping Center off I-94 in Sturtevant.
(Photo credit: Mark Hoffman)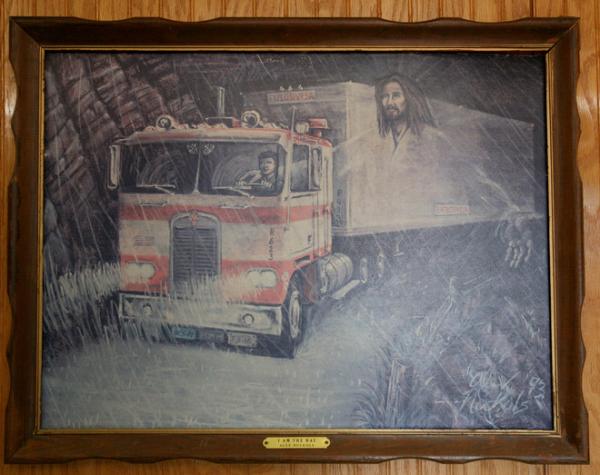 Artwork depicting Jesus Christ watching over a truck driver adorns a wall in the mobile chapel.
(Photo credit: Mark Hoffman)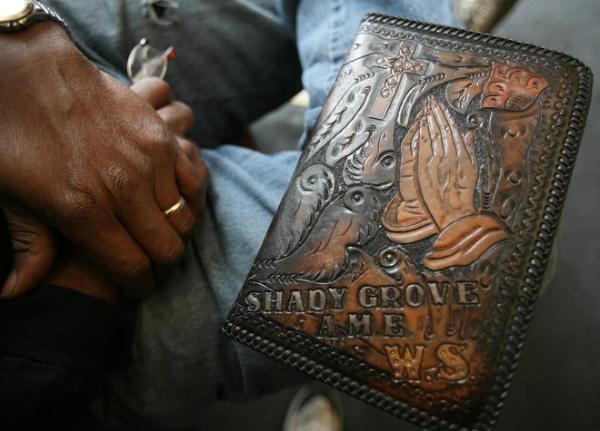 Driver Wiley Sheets protects his well-used Bible with a leather cover made by prison inmates in Arkansas.
(Photo credit: Mark Hoffman)


The Transport for Christ Chapel, parked at the Twin City East TA Travel Center truck stop in Hudson.
(Photo credit: Mark Hoffman)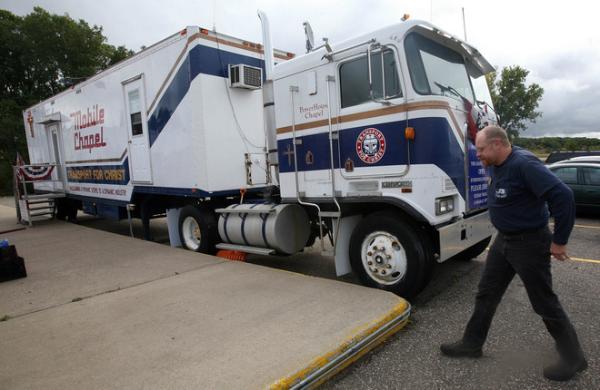 After making an announcement that the worship service would start soon, chaplain Tim Sackett heads to the mobile chapel.
(Photo credit: Mark Hoffman)
Truck Stop Chapel
"Transport For Christ, International"
Web Site:
www.transportforchrist.org
---
Back to EARS Library
Intro | Updates | The Books | Lea | Extras | Events | Links | The Future